HONORING DARKNESS:
Exploring the Power of Black Madonnas in Italy
by Mary Beth Moser (Edition Three, June 2008)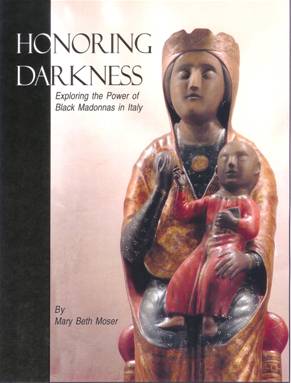 A scholarly and spiritual exploration into the history, traditions, images, and miracles of the Black Madonnas in Italy
Over thirty color images of Black Madonnas in Italy
Analysis using leading-edge feminist theories
Personal stories from on-site experiences
Survey of American women travelers
Detailed references and bibliography for further study
"The immense power of Black Madonnas, rooted in the primordial past, and evident in the present, is an active Source available to all. By honoring her dark image, we honor the power of darkness. By acknowledging her full power we can receive it for ourselves and move forward, not only in the holiness of her presence but in the wholeness of our being." (excerpt from book)
---
Mary Beth Moser's thesis is a bright example of scholarship in Women's Spirituality. She brings passion, an acute awareness of the power of black madonnas, wide learning, and first hand experience to this study. Brava!
Dr. Lucia Chiavola Birnbaum, Professor of Women's Spirituality, California Institute of Integral Studies, Author of Liberazione della Donna, Black Madonnas, and Dark Mother
I ate up every word and gained a deeper appreciation for the Black Madonna and her dark, courageous power, her lineage in the long line of the Feminine Divine. I love how you shared what other women and men also felt about their own experiences/ encounters with the Black Madonna.
Mary Saracino, Author of No Matter What, Finding Grace, Voices of the Soft-bellied Warrior, and The Singing of Swans
In Mary Beth Moser's powerful and beautifully-written work, I found core values of depth psychology: healing, wholeness, and a great respect for the Divine Feminine, the Sacred Mother of All. This book was a joy to read, and I enthusiastically recommend it.
Adam L. Stone, M.A., Jungian Psychotherapist, stone@ucla.edu
It was FANTASTIC and we felt really in communion with you and your journey. I am humbled by your work and willingness to share and be open to where she takes you. I can't put it down.
Laura Scaccia Beagle, Italian American
I want to send you a long-overdue thank you for your absolutely wonderful work and scholarship. I'm delighted that my work made a difference and has been helpful to you. We need to build on what each of us is doing and what we've done!
China Galland, Author of The Bond Between Women, Longing for Darkness, and Love Cemetery
---
To order a copy of
Honoring Darkness:
Exploring the Power of Black Madonnas in Italy (Edition Three)
By Mary Beth Moser
Order via credit card, debit card or PayPal:
(Please note, the PayPal site is used to process credit cards, debit cards, and PayPal accounts to ensure the security of your information. You do not need a PayPal account to use your card to pay for your order.)
$30 book, $5 USA shipping and packaging, applicable sales tax
Contact us for the shipping cost to non-USA locations.
Order by Check:
$30 book, $5 USA shipping and packaging
Contact us for the shipping cost to non-USA locations.
Add $3.00 tax if you are a Washington State resident.
Send check to:
DEA MADRE Publishing
P.O. Box 1953
Vashon Island, WA 98070 USA
Thank you for your order!