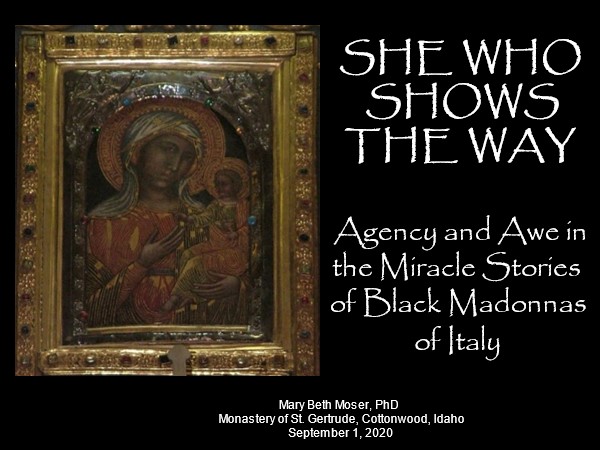 In her visual presentations, Mary Beth Moser draws from her ongoing research in which she explores the power and the mystery of Black Madonnas found throughout Italy and beyond. During extensive field trips Mary Beth has researched, photographed, and documented the enormous devotion to Italian Black Madonnas. From cities to caves and mountaintops, Mary Beth has sought out shrines, churches, and sanctuaries that honor the Madonna's venerated presence.
Mary Beth's engaging narrative weaves together the legends and practices surrounding the Black Madonna's devotions and miracles, with stories of personal experiences, all of which reveal an ancient and living tradition that testify to the Black Madonna's power to transform lives. While her presentations are focused on Italy, the insights she provides apply to Black Madonnas found throughout Europe and beyond. The Black Madonna is a potent living symbol who invites us to experience Her transformational power in our lives.
The miracle stories of the Black Madonna encourage us to clarify what is sacred in ourselves and in our lives, and to protect what is to remain untouchable, inviolable, or Virgin. She calls us to our fierceness empowering us to reveal what has been hidden.
---
"I have never witnessed such a powerful combination of scholarly diligence and transformative spirituality. Mary Beth's deep care of the stories and research allows her students to experience life-giving dimensions of the themes: the Black Madonna, the dreams and struggles of the ancestors, the witnessing Earth. She is a trustworthy guide. Our people are still talking about her presentation and asking for the recording."
Theresa Henson, artist and educator, former online programs coordinator at the Monastery of St. Gertrude
"Your presentation was wonderful: organized, scholarly, AND deeply personal. The students were very inspired by you – as we all are."
Dianne Jenett, Co-director, Women's Spirituality Master's Program, Sofia University, Palo Alto, California
"Your enthusiasm for the subject and your treasure trove of imagery enchanted our viewers. This was one of the most popular events of our programming year!"
Victoria Scarlett, Director, Center for Sacred Art, Seattle, Washington
---

Presentations, lectures, workshops, and interviews by Mary Beth Moser
"She Who Shows The Way: Agency and Awe in the Miracle Stories of Black Madonnas of Italy", St. Gertrude's L.I.V.E. presentation, September 2020
See the presentation on video, click here.
"She Who Shows The Way: Agency and Awe in the Miracle Stories of Black Madonnas of Italy", American Academy of Religion, Pacific Northwest Region,Tacoma, WA, May 2018
"The Black Madonnas of Italy: Images, Miracles, and Traditions," American Academy of Religion, Pacific Northwest Region, Tacoma, WA, April 2009
"The Metaformic Roots of the Black Madonnas of Italy," graduate lecture, Institute of Transpersonal Psychology, Palo Alto, CA March, 2009
"The Black Madonnas of Italy," graduate lecture, California Institute of Integral Studies, San Francisco, CA, October 2006
"The Black Madonnas of Italy," graduate lecture, New College of California, San Francisco, CA, December 2005
"The Black Madonnas of Italy," graduate lecture, California Institute of Integral Studies, San Francisco, CA, December 2005
"Sardegna! Ancient Island, Timeless Island," speaker for monthly program, Dante Alighieri Society, Seattle, WA, October 2005
"A Pilgrimage to the Black Madonna of Oropa," invited presenter for The Black Madonna and the Womb of God Conference, Graduate Theological Union, Berkeley, CA, June 2005
"The Black Madonnas of Italy," public presentation, Belladonna, Berkeley, CA, June 2005
"Hidden No More: The Black Madonna Adonai of Sicily," presentation for She Is Everywhere book release event, Belladonna, Berkeley, CA, May 2005
"Sacred Sisterhood: The Black Madonnas of Italy and France," presentation, Women's Integral Leadership Center, Seattle, WA, February 2005
"Sardegna! Mediterranean Island of the Dark Goddess," workshop, Women of Wisdom Annual Conference, Seattle, WA, February 2005
"The Black Madonnas of Italy," presentation for She Is Everywhere panel, annual conference, American Italian Historical Association, Annapolis, MD, November 2004
"Honoring Darkness: Exploring the Power of Black Madonnas in Italy," Workshop, Women of Wisdom Annual Conference, Seattle, WA, February 2004
"The Black Madonnas of Italy," presentation, Center for Sacred Art, Ballard, WA, November 2003
"The Black Madonnas of Italy," monthly speaker, Dante Alighieri Society, Seattle, WA, May 2003
"Honoring Darkness: Exploring the Power of Black Madonnas in Italy," monthly speaker, Serpentina "Goddess is Alive" Lecture Series, Oakland CA, April 2003
"Honoring Darkness: Exploring the Power of Black Madonnas in Italy," graduate lecture, California Institute of Integral Studies, San Francisco, CA, April 2003
"Honoring Darkness: Exploring the Power of Black Madonnas in Italy," graduate lecture, New College of California, San Francisco, CA, April, 2003
Radio interviews
"Voices of Women" on Transformation Talk Radio, hosted by Kris Steinnes, guest together with Mary Saracino on book release of She Is Everywhere! Volume 3, April 20, 2012.
"Sardegna/Italy Special" on Music of the World, KPFA Radio, 94.1 fm, Berkeley, CA. hosted and produced by Sandy Miranda. In-studio guest together with Dr. Lucia Birnbaum, June 2004
---