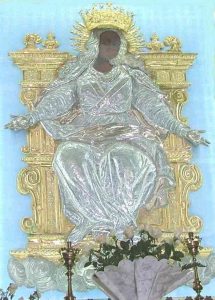 In 1995, I took a sabbatical from my job to do genealogical research in Italy. My journey started with a pilgrimage to Goddess sites in southern Italy with a small group of women, led by archaeologist Frances Bernstein. I had been going to Italy for 20 years. But it had never occurred to me that among all the ruins and hidden in the churches and in nature were places once sacred to women and men who honored female divinities.
Here was common ground of my blood ancestry and my spiritual heritage. This land, consecrated by being at the crossroads of my passions, became holy ground for me.
Our small group of women spent two weeks visiting temples, churches, museums, and caves in southern Italy. It was my first experience of being taught by a scholar from a feminist viewpoint. Our leader had the knowledge and the insight to go beyond the minimal or non-existent information that was available about women's history and spiritual practices. Her words and our rituals recreated the sacredness that had once been there. I felt like I was seeing things with new eyes. I realized that what I had learned in the past was incomplete and subject to interpretation.
Being at these sacred places with a group of women was far more powerful than reading about them. It transformed me in a palpable way.
One story from my journal tells of an important experience during that trip:
It was Monday, Lunedi in Italian, the night of the full moon, and our two-week journey was almost ended. We were staying at a hotel on the Tyrrhenian Sea and we decided to do a moonlit ritual by the ocean. As the moon rose, we went to the beach in our flowing skirts and with our candles.
The wind was blowing so strong from the sea to the land that our candles kept blowing out as soon as we lit them. Someone had the idea to put them in the sand and, amazingly, they stayed lit! We danced and sang around our little circle of flames, delighting in the wind and the waves and ourselves. Our female energy fed the flames that grew when we swooped low near them. We felt giddy with the spirit.
When at last it came time to end our ritual and return to our rooms, each woman picked up her candle, which the wind quickly extinguished, and started walking back. But when I picked up mine, the flame did not go out! I started twirling wildly in the wind, arms extended, candle in hand. The flame would appear to go out, and then light itself again as if by magic. We laughed as it happened repeatedly. I told the others that I was not going to return while my candle was still lit. They each departed and I was alone. I first ran, and then walked along the beach in the dark, candle flame glowing. The flame blinded me from seeing at a distance and the pounding waves and wind deafened me from hearing other sounds. I felt vulnerable to the approach of other people on the beach, wondering if I was safe. But as time passed, I overcame my fear, as I felt I had a divine female presence with me in the flame. I became calm.
I thought about the pledge I had made and wondered if the flame would ever go out. I reflected upon this journey as I walked up and down the beach, about my longing for The Divine Mother, and my desire for the missing feminine in my life. 
And then the message of the flame came to me, as clear as a voice in my ear. "I am with you always, Mary Beth," she said. And then I knew that She always would be. I cried and laughed at the joyful realization. The flame of the candle went out.
I returned to my room, her fire forever in my heart. I climbed into bed in my clothes, symbolically not wanting to shed the experience just yet. I hardly slept that night I was so filled with ecstasy. The next morning I discovered hardened bits of white candle wax on my skirt – a sweet memory of her burning mark upon me.
The presence of the divine within me had a name, I later found out – immanence. It was a feeling I wanted to have, to keep, to hold. After that, I began to pray to God the Mother instead of the familiar Father God of my childhood, and felt a shift in my being. I addressed her as "Goddess" so I could shift my mental image away from an old man with a beard. (Excerpted from Honoring Darkness: Exploring the Power of Black Madonnas in Italy)