At major sanctuaries to the Black Madonna throughout Italy and beyond, devotees over the centuries have made offerings known as ex-votos, Latin for "out of a vow," to give recognition for healing received at a time of great need.
This art of gratitude often takes the form of a narrative painting with the words "PGR," per grazia ricevuto – for grace received – along with an inscription of the specific details of the circumstances of the event.
More than 10,000 ex-votos in Italy have survived the ages, although many have been lost, stolen, or destroyed.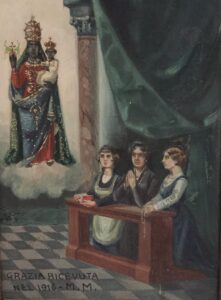 These testimonies of divine connection provide a fascinating insight into the past. They offer a historical record of everyday dangers and communal catastrophe. At the same time, they tell of survival, resilience, and collective action. Making offerings at sacred sites is an ancient practice, as evidenced by devotional items found throughout Italy.
The viewing of ex-votos invites us into conversation across time and suggests a meaningful spiritual practice that can be utilized today. They ask us to pay attention to not only what has happened in the places we inhabit, but also to what is happening.  They encourage us to ask: What am I grateful for? Who is helping me? How am I acknowledging that? What am I giving back in return for the gift I received?
As we seek deeper connections that carry us forward into uncertain times, creating expressions of gratitude offers a practice of relationship and reciprocity with the natural world.
"The Art of Gratitude:  The Enduring Value of Ex-votos to the Black Madonnas of Italy,"presented to the Pacific Northwest American Academy of Religion, George Fox University, Newberg, Oregon, May 20, 2023.